Avira AntiVir Personal Free Antivirus is a comprehensive, easy to use antivirus program, designed to offer reliable free of charge virus protection to home-users only. Avira offers: Extensive Malware Recognition of viruses, Trojans, backdoor programs, worms; Automatic incremental updates of antivirus signatures, engine and entire software;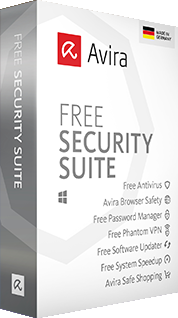 Avira AntiVir Personal Free Antivirus is a comprehensive, easy to use antivirus program, designed to offer reliable free of charge virus protection to home-users only…
---
---
[Description: Avira AntiVir (Free)]
Avira AntiVir Free Antivirus provides permanent virus protection, with Virus Guard real time monitoring; Install and configuration in just a couple of steps, setup to protect your PC in minutes; Virus protection against known and unknown threats, using an advanced heuristic system; Scheduler where you can set the scanner to make automatic virus scans or updates on your system; Forum and phone support; Knowledge Base with virus descriptions available on web site; Rootkit Detection and Removal; A modularized AV-search engine for improved scan performance. Version 9 introduces a quick-removal button for eliminating viruses with a single click, enhanced anti-spyware and anti-adware engines, and support for low resolution netbook screens.
Our new design:
Being smart never looked so good
Simple. Intuitive. Attractive. Our new design helps you wield the power of next-gen technologies with the push of a button.
Next-gen antivirus:
Protecting tomorrow, today
Powered by a combination of artificial intelligence, cloud technologies, and our endpoint antivirus scanner, we protect your private data against all types of malware including ransomware, Trojans, and spyware.
Real-time cloud scanning
Our Protection Cloud is our early warning system, which analyzes unknown files in the cloud – anonymously – from millions of users, to protect you from threats as they emerge in real time.
---
[Reviews Avira AntiVir (Free)]
Features
After years of plodding on with the same tired-looking interface, Avira Free Antivirus has finally got a refresh. This has to be a major improvement, right? Well, maybe not.
The package opens with a sort-of scrolling launcher of Avira functions. Sounds reasonable and works well on a touchscreen device, but it's fairly pointless for the free Windows version as there's only a single Antivirus option that's any use.
Clicking Antivirus opens a cramped-looking console with information on your security status. You can run a quick scan immediately, or clicking Scan in the left-hand sidebar gives you options to run a full system scan, define a custom scan to check whatever you need, or schedule a scan to run automatically.
Other sidebar icons are on hand to access quarantined files, view system logs, and browse a few settings. Tap most of these icons and a panel pops out with more options and status information. These aren't visually consistent and don't always work as you would expect, so we spent the first minute or two wondering why Avira thought this was a good idea. This interface will work better on a mobile device than a desktop, though, and overall it's not difficult to use. You'll figure out the basics within a few minutes.
Final verdict
Avira Free Antivirus delivers decent protection, especially for a free product, but Avast Antivirus Free is almost as accurate and gives you more features and options.
---
ANTIVIRUS FIREWALL AND SECURITY FREEWARES
---
BEST FREEWARE RESOURCES FOR WEBMASTERS