FREE Comodo Firewall
Comodo Firewall offers the highest levels of security against inbound and outbound threats. It checks that all network traffic in and out of your computer is legitimate. It stealths your computer's ports against hackers and it blocks malicious software from transmitting your confidential data over the internet. Comodo Firewal also makes it easy for you to specify exactly which applications are allowed to connect to the internet and immediately warns you when there is suspicious activity.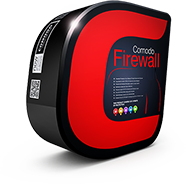 [Comodo Internet Security:]
Comodo Internet Security (formerly Comodo Firewall) combines Comodo AntiVirus with a personal firewall that filters ingoing and outgoing traffic on your computer. It alerts you of any applications that attempts to connect to the Internet and allows you to permanently or temporarily allow or block the connection. Advanced users can customize the application and TCP/IP rules based on IP address, protocol and destination port, however this is not required unless you have a reason to customize the rules. In addition to application behavior and network connections, Comodo Firewall also monitors components (dll files etc.) that initiate network connections, as well as parent processes and modifications to executables (checksum verification). Other features include attack prevention (port scanning, flooding), adjustable security levels, trusted networks, activity log and more. The firewall and antivirus features can be installed individually, you do not have to install both.
---
Review:
It's worth taking your time when installing Comodo Free Firewall because it comes bundled with an extra browser, and if you click through too hastily you might find that it's installed itself without you realizing.
Comodo Free Firewall sits in a small window at the top right of your desktop, providing one-click access to sandboxed versions of Chrome, Firefox and Comodo Browser for safer surfing. You can also run any other programs in a sandbox – ideal if you enjoy experimenting with free software, as these apps can sometimes offer more than you bargained for.
It's easy to control permissions for different networks, and you can create rules for specific programs too (allowing incoming traffic, outgoing traffic, both, or neither). Viruscope monitors the behavior of processes for anything that looks suspicious (though your regular antivirus software probably has this covered), and website filtering enables you to block certain sites.
Comodo Free Firewall will also offer to set Yahoo as your homepage, but the checkbox is much easier to see and untick than ZoneAlarm's. It will also suggest making its own secure Comodo Dragon your default browser and importing your settings from Chrome. You can't opt out of installing the browser, but you can choose not to use it.
Comodo Free Firewall will offer to change your DNS (domain name resolution service) provider to Comodo Secure DNS for more faster, safer browsing.
---
TAGS: Comodo Pro Firewall FREE |