Download ZoneAlarm Firewall Free version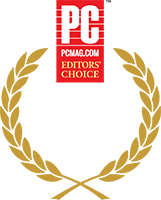 Monitors programs for suspicious behavior and shields you from hackers, identity thieves, and other online threats when you connect to an unsecured network. Our two-way firewall monitors the traffic entering and exiting your computer network, making your PC invisible to hackers and stopping spyware from exposing your data to the internet. Protects your private information from phishing attacks while you browse online. Scans URLs to prevent you from entering your personal information on websites that are known to carry security threats. (Included in Web Secure Chrome Extension). Uses Zero-Day Protection to remove potentially malicious features from file downloads, such as macros, embedded objects, and other malicious content. (Included in Web Secure Chrome Extension).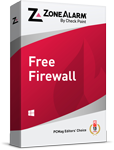 TrustMeher Review: Some versions of this program may automatically installs the Ask.com toolbar unless you opt-out. Also Firewall may block your FTP Software, which you may need to allow by selecting the Running Process for FTP software's exe file.
[Description:]
ZoneAlarm is designed to protect your DSL- or cable-connected PC from hackers. This program includes four interlocking security services: a firewall, an application control, an Internet lock, and Zones. The firewall controls the door to your computer and allows only traffic you understand and initiate. The Internet lock blocks Internet traffic while your computer is unattended or while you're not using the Internet, and it can be activated automatically with your computer's screensaver or after a set period of inactivity. Zones monitor all activity on your computer and alert you when a new application attempts to access the Internet.
[More Information & Features:]
ZoneAlarm provides essential protection for Internet users. Combining the safety of a dynamic firewall with total control over applications Internet use, ZoneAlarm gives rock-solid protection against thieves and vandals. ZoneAlarm makes ironclad Internet security easy-to-use. ZoneAlarm gives you control over the door to your computer. With Stealth Mode enabled, ZoneAlarm`s Firewall renders your computer invisible to the Internet and potential intruders. If you can t be seen, you can t be attacked. Because you tell ZoneAlarm how you use your computer, the firewall only allows traffic that you understand and initiate. ZoneAlarm s firewall provides the ultimate intrusion security for your personal computer. ZoneAlarm also introduces MailSafe which enables users of ZoneAlarm to detect and control Visual Basic Script attachments to emails they receive while ZoneAlarm is running. Free for personal and non-profit use.
[Source]
[Reviews]
"A totally free, very effective firewall"
Reviewed by: CNET Staff
Version reviewed: ZoneAlarm 8.0.298
An effective and easy-to-use firewall program, ZoneAlarm does a great job of keeping your PC safe from a variety of threats. ZoneAlarm uses a simple wizard to make configuring a firewall, which seems like a daunting task to many computer users, incredibly easy.
Maintaining and updating settings also is a snap when you're using the stylish interface and its simple slider controls. The program's Zones feature allows you to assign different security levels for a local network and for the Internet.
A great recent addition is small but quite helpful. A new "Game Mode" lets you automatically allow or deny alerts when you're in the middle of playing a video game. We found ZoneAlarm very good at recognizing and automatically including settings for our local network.
In all our tests, the firewall guarded against all external and internal threats it encountered. ZoneAlarm is an excellent firewall choice for just about any average user.
TAGS:
ZoneAlarm Firewall FREE |