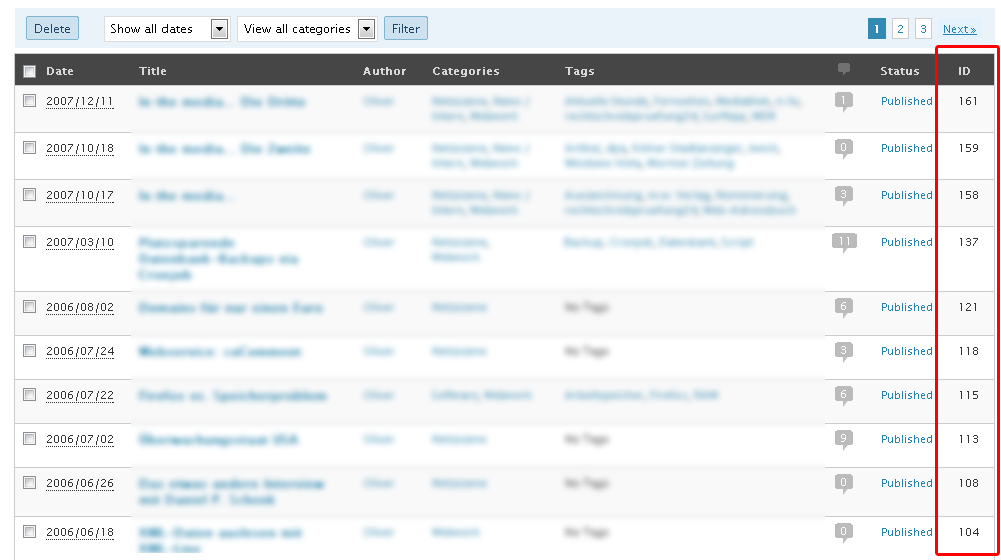 With WordPress 2.5 being released, the IDs on all admin pages have been removed as it is. Propably due to the fact that the common user dont need them. However, for advanced WordPress Users/ developers those IDs were quite interesting for some plugins or template tags.
What this plugin does is to reveal most removed entry IDs on admin pages, showing the entry IDs, as it was in versions prior to 2.5. Following IDs can be revealed: Posts, Pages, Categories, Links, Media, Users, Comments, Link categories, Tags (WP 2.8 and above)
---
FREE WORDPRESS PLUGINS LIST
Some of the selected WordPress plugins for enhancing your convenience and blog management experience, are listed below. These plugins are mostly experimented with by our Editors team and are recommended as essential webmasters plugins for a wonderful WordPress journey.
---
[display-posts orderby="rand" category="free-wp-plugins" posts_per_page="50"]
---
For WordPress Plugins details please contact the Plugin Developers from the plugin homepage contact link. Generally plugin documentation is given with detailed configuration settings. Easiest way to install a WordPress plugin is to search for new plugin from the Dashboard > Plugins > Add new > menu. Install and Activate the plugin from there. The other way to install plugins is to download the plugin zip file to your PC, extract the folders and upload them via some
FTP
software to the wp-content > plugins directory. Once uploaded you will be able to see this plugin under inactive plugins list on Dashboard and can activate from there. If you find any other WP plugin useful for web developers, which may be listed here, please feel free to
Contact us
.
---
BEST FREEWARE RESOURCES FOR WEBMASTERS