FREE Contact Form 7 WORDPRESS PLUGIN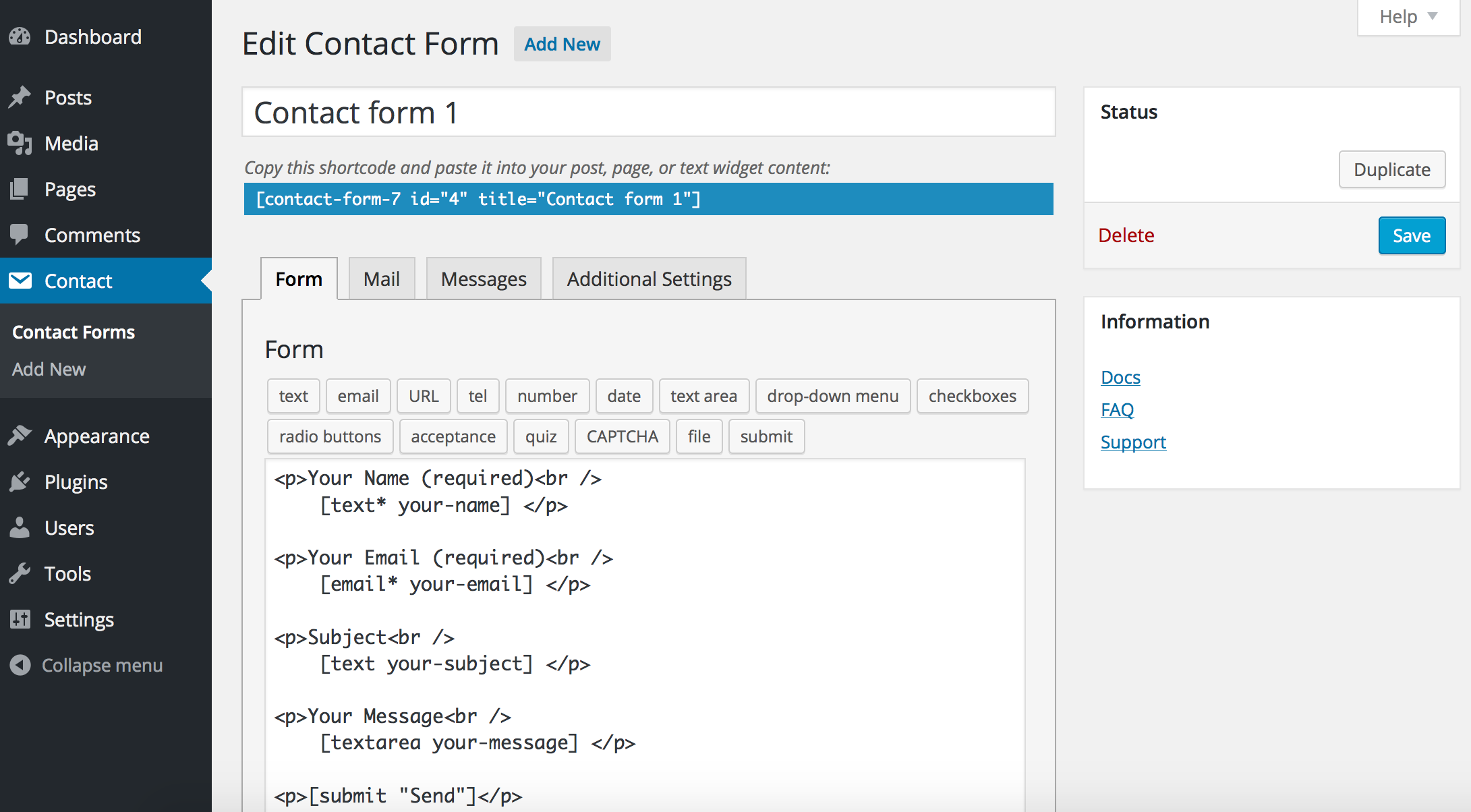 Contact Form 7 can manage the Feedback form on your website with multiple contact forms, plus you can customize the form and the mail contents flexibly with simple markup. The form supports Ajax-powered submitting, CAPTCHA, Akismet spam filtering and so on.
---
---
Really Simple Captcha plugin
To add security captcha validation to the contact form 7 install the Really Simple Captcha plugin. Although there are some other captcha validation plugins like Image Captcha etc but Really Simple Captcha was originally developed for Contact for 7 and has best and easiest integration.
Honeypot Anti-Spam for Contact form 7
This simple addition to the wonderful Contact Form 7 (CF7) plugin adds basic honeypot anti-spam functionality to thwart spambots without the need for an ugly captcha. The principle of a honeypot is simple — bots are stupid. While some spam is hand-delivered, the vast majority is submitted by bots scripted in a specific (wide-scope) way to submit spam to the largest number of form types. In this way they somewhat blindly fill in fields, regardless of whether the field should be filled in or not. This is how a honeypot catches the bot — it introduces an additional field in the form that if filled out will cause the form not to validate.
Google Captcha (reCAPTCHA) plugin
This is an effective security solution that protects your WordPress website forms from spam entries while letting real people pass through with ease. It can be used for login, registration, password recovery, comments, popular contact forms, and other. Users are required to confirm that they are not a robot before the form can be submitted. It's easy for people and hard for bots. You can add this ReCaptcha to any other form or even the WordPress admin login page also.
---
FREE WORDPRESS PLUGINS LIST
Some of the selected WordPress plugins for enhancing your convenience and blog management experience, are listed below. These plugins are mostly experimented with by our Editors team and are recommended as essential webmasters plugins for a wonderful WordPress journey.
---
[display-posts orderby="rand" category="free-wp-plugins" posts_per_page="50"]
---
For WordPress Plugins details please contact the Plugin Developers from the plugin homepage contact link. Generally plugin documentation is given with detailed configuration settings. Easiest way to install a WordPress plugin is to search for new plugin from the Dashboard > Plugins > Add new > menu. Install and Activate the plugin from there. The other way to install plugins is to download the plugin zip file to your PC, extract the folders and upload them via some
FTP
software to the wp-content > plugins directory. Once uploaded you will be able to see this plugin under inactive plugins list on Dashboard and can activate from there. If you find any other WP plugin useful for web developers, which may be listed here, please feel free to
Contact us
.
---
BEST FREEWARE RESOURCES FOR WEBMASTERS