Lightshot Free Screenshot assistance Tool
The fastest way to take a customizable screenshot. Its a wonderful software to take screenshots with a difference. Lightshot allows you to take screenshot of a crop area of the screen and capture exactly what is required instead of having to use PrintScreen button and copy the entire screen and then use some other image editor to paste and edit.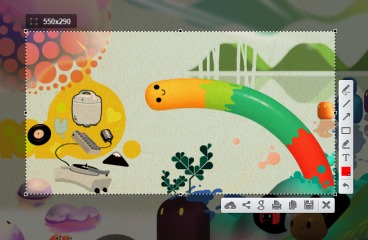 With Lightshot you can hit PrintScreen button and instantly select the particular area of the screen which you want to save as image. Lightshot also have various helpful tools while saving the screenshot or its crop image like adding some text or draw a line or draw arrows, boxes in colors of your choice etc. Some features of Lightshot app are below as per the developers website.
Category: Freeware
TrustMeher Review: Five Star
Features
Fast screenshot of selected area
Our app allows you to select any area on your desktop and take its screenshot with 2 button-clicks.
Add Lines to Screenshot
Use the line tool after screenshot to add lines to highlight something on image then and there.
Add Text to Screenshot image
You can add Text to the select or crop image where ever you want
Show Arrows or Boxes or freehand drawings anywhere on screenshot image
You can place arrows or boxes to the image to add value to presentation.
Save or share screenshots via Internet
Upload your screenshot to the server and get its short link right away to share with friends or social media or hit Ctrl+S to save the image to your PC/Laptop instantly without having to open any other image editing software like Photoshop etc.
Similar image search
Find similar images. Select any image on your screen and find dozens similar images.
Available for Windows and Mac
Lightshot is available for Windows/Mac, Chrome, Firefox, IE & Opera.
TAGS:
FREE SCREENSHOT CAPTURE TOOL | CROP SCREENSHOT IMAGE | EDIT SCREENSHOT | DOWNLOAD