Absolute HTML Compressor is ideal for webmasters who have large HTML files to upload. This HTML compress freeware can substantially reduce the size of HTML file by removing the unnecessary code, blank white characters, etc. Although it makes the content so streamlined that the original format is lost for text editing, but experienced webmasters can do the editing manually even after compression. Always therefore make a copy of the file that you are compressing, in case you want to revert back. The good thing is that even after compression the page format looks as beautiful in browser as earlier without any change.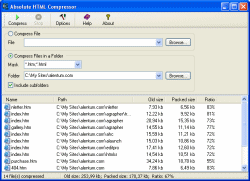 ---
---
Publishers Description:
Absolute HTML Compressor is an award-winning tool that optimizes HTML files so that their size reduces. The program doesn't corrupt most HTML files unlike other optimizers. You can read about features of the product, download Absolute HTML Compressor. The program is freeware.