AceMoney Lite Free Version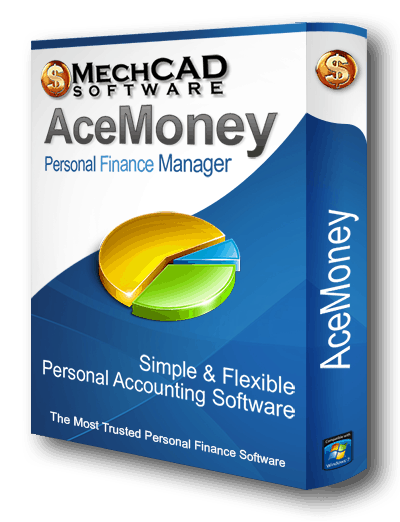 Category: Freeware
TrustMeher Review:
[Description:]
AceMoney Lite is a freeware personal finance manager. It has all the features of its big brother except multiple accounts management. As AceMoney, AceMoney Lite helps people organize and manage their personal finances quickly and easily. It supports all the features required for home or even small-business accounting needs:
[More Information & Features:]
Manage multiple accounts of different types
AceMoney supports checking, savings, credit cards, loans, debt accounts. You can even create your own account type, such as a cash allowance for your kids!
Create and manage budgets
The program has more than 100 predefined spending categories. Setup budget limits for every category and track the difference between actual and budgeted values.
Track performance of investments
Track 401k, Stock options, Employee Stock Purchase Plans or any other investment activities. You don't need to enter the stock quotes manually: AceMoney will download them from the net!
Do your financial math in multiple currencies
The software supports more than 150 different currencies and automatically downloads their exchange rates from Internet.
Track your spending habits and see where the money goes
Generate any report by categories or payors/payees, including pie charts. Now you can see at a glance how much you spent on food last month. Find all your withdrawals and deposits by any parameter.
Enjoy the convenience of on-line banking
Download and import information from on-line banks in QIF and OFX formats. If you run a small business, export to HTML, Text, or CSV formats to generate statements or perform complex statistical analysis.
Don't miss the next deadline for bills
AceMoney takes control over your bills and shows you when they should be paid.
Double check
Enjoy the security of password protection of every file, scheduled backups and many other features without having any experience in accounting!
Plan debts and mortgage payments
AceMoney provides a loan calculator to plan debt payments and a professional mortgage calculator to estimate future morgage payments if you are planning to purchase real estate.
Do e-business with AceMoney
Are you selling goods on eBay? Are you in a shareware business? Do it with AceMoney! AceMoney automates input of orders coming from PayPal, RegNow, RegSoft, SWReg and Plimus.
Use AceMoney on Windows, Linux and Mac
AceMoney is a native Windows application which requires only 8 megabytes of memory and runs on any 32 or 64 bit version of Windows, from Windows 95 to Windows 7. AceMoney got a Platinum rating in Wine Application Database and works flawlessly out of the box in Linux and Mac OS.
On top of that, AceMoney is available in Arabic, Bosnian, Bulgarian, Catalan, Chinese, Croatian, Czech, Danish, Dutch, English, French, Galician, German, Greek, Hebrew, Hungarian, Italian, Lithuanian, Polish, Portuguese, Romanian, Russian, Slovak, Slovenian, Swedish, Turkish, Ukrainian and Welsh! People all over the world use AceMoney for their personal needs.
[Source]
[Reviews]
CNet review
The cream of the software crop! We highly recommend this download.
This program promises to help you keep track of home and small-business finances. The installation runs quickly for this small download. The software is well-designed, includes many features, and even supports various languages including Russian and Slovak. All commands are accessible from buttons within the interface as well as in the menus. It performs all types of calculations, downloads the latest exchange rates from the Internet, and handles online banking. Bank-account and credit-card information can be protected by passwords to keep your data secure. A button link gives you quick access to the developer's site for updates or help. With its extensive features, good design, and free price, there is no reason not to try AceMoney Lite.
Gord McFee, Canada:
I've said it many times, but I'll say it again. This is the best piece of shareware I have seen yet (and I have been seeing them for a lot of years) when you factor in features, price, simplicity and author response and interaction. The BEST.
Shane R. Monroe, USA:
A long time Microsoft Money user, I finally got fed up with all the ads and other crap inside MS Money. I found ALL the functionality I needed for tracking all my accounts right here inside this financial package. Its small, fast, the author is very receptive to requests, and it pretty much does it all for a standard home user.
Mark Gatzke, USA:
After fighting with the latest versions of both Microsoft Money and Intuit Quicken, I was pleased to download (and register) AceMoney. It's easy to use and gives me control that the other programs won't. I imported all of my data with very minor adjustments and have decided to uninstall the other two programs in favor of this one.
Ed Hennessy, USA:
The program is terrific – just what we wanted and nothing more. Our new computer came with Quicken 2002, which I uninstalled – who needs a 120 MB program to do what AceMoney does so well and so efficiently!
David Walton, Australia:
I congratulate you on a super, intutitive and SIMPLE Financial Organiser. Kills the other mainstream ones with ease of use. Hope it never gets TOO top heavy with more gizmos.
Kim, UK:
I've downloaded and registered your programme and am very impressed. I've looked at lots of similar programmes this week and must say this one is by far the best. Easy to use and well thought out, and miles ahead of the others – some dont even seem to understand basic accounting principals. I've at last got my personal finances organised.
MechCAD Software:
We are proud to tell you that MechCAD Software staff is using AceMoney for business and personal accounting needs. Actually we do all our accounting in AceMoney. Unlike many other companies we don't develop software "just for sale", we actually use our products on the daily basis!
---
OTHER ACCOUNTING AND FINANCE FREEWARES
---
[wbcr_html_snippet id="4346″]