FREE FileZilla FTP DOWNLOAD
FREE FileZilla FTP
FileZilla FTP Free and Portable Version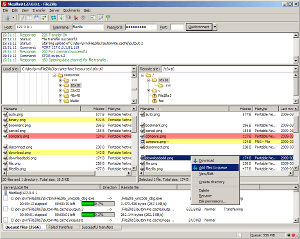 Category: Freeware
TrustMeher Review: Good one for Webmasters : Lacks Advance features like FTP Scheduler or "Bulk file rename while uploading" like coreFTP Free has. Exmple: Bulk Renaming of all *.html files as *.php while upload ! Portable version is Great to use from Thumb Drives or CD.
[Description:]
FileZilla is an FTP program for file uploading and downloading to and from your FTP site, server, or host. The program lets you transfer files and navigate among folders, Web sites, and your computer. This software enables you to perform multiple file transfers simultaneously. FileZilla Client is a fast and reliable cross-platform FTP, FTPS and SFTP client with lots of useful features and an intuitive graphical user interface.
Version 3.2.4.1 allows empty fact values in MLSD listings as allowed by the specifications, recognizes symlink entries in MLSD listings amd fixes redundant file exists prompts after chosing rename file exists action.
[More Information & Features:]
Easy to use
Supports FTP, FTP over SSL/TLS (FTPS) and SSH File Transfer Protocol (SFTP)
Cross-platform. Runs on Windows, Linux, *BSD, Mac OS X and more
IPv6 support
Available in many languages
Supports resume and transfer of large files >4GB
Powerful Site Manager and transfer queue
Bookmarks
Drag & drop support
Configurable transfer speed limits
Filename filters
Network configuration wizard
Remote file editing
Keep-alive
HTTP/1.1, SOCKS5 and FTP-Proxy support
Logging to file
[Source]
[Reviews]
Reviewed by: CNET Staff
Version reviewed: FileZilla 3.2.4.1
Rich in Web content, short on cash? This free, open-source FTP application is handy if you're looking for a solid tool to handle FTP transfers and don't want to part with your bucks.
The straightforward interface offers translations in most of the world's major languages. Caching directories speeds up browsing FTP sites, and multiple secure connection options ensure that you can move files around without concern. Bookmarking comes in two flavors: the Site Manager for all your major FTP locations, and QuickConnect for fast switching on the fly.
The program lets you download or upload multiple files at once from and to several servers. If your bandwidth is somewhat limited, you'll appreciate a feature that lets you automatically adjust transfer speeds based on the time of day or date. FileZilla also lets you browse FTP sites mid-transfer. The lack of a task scheduler is compensated for, in our eyes, by a powerful filter so you only see the files you need.
FileZilla is no monster, either, eating up a manageable 50 MB in memory. Clearly, this is one of the best FTP tools around.
TAGS:
FREE FTP SOFTWARE TOOLS DOWNLOAD | FileZilla FTP Free Portable Version |
TRUSTMEHER FREE TOOLS AND SOFTWARE FREEWARE DOWNLOAD | FREE TUTORIALS | CONTACT US | Disclaimer